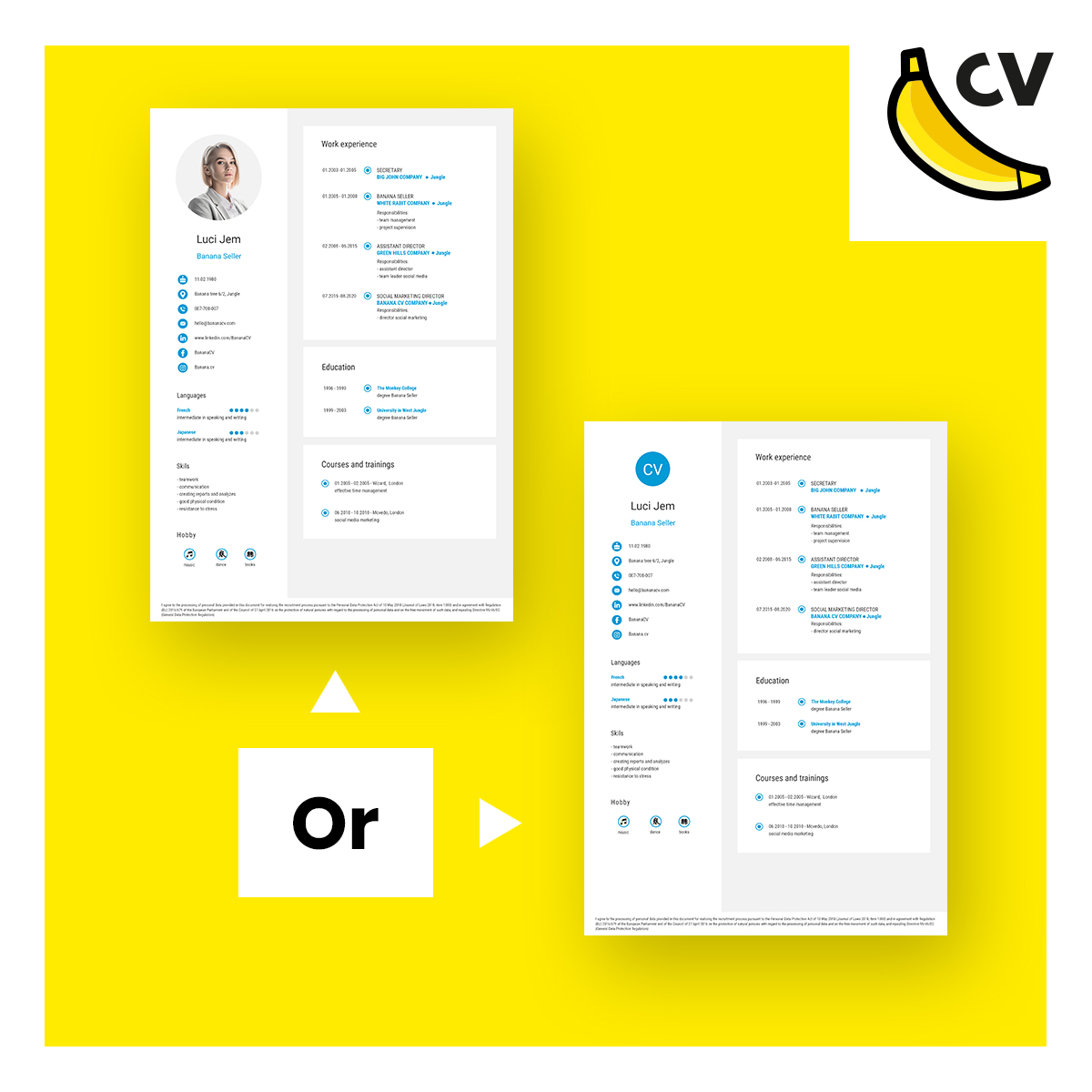 When applying for a job, the first impression is extremely important. Your potential employer will have the first contact with you by viewing your CV. And while the content is the most important thing in your resume, a photo is the first thing that catches your eye. And it is it that can decide about your being or not in the new company. What should the photo in the CV look like and is it necessary at all?
Each candidate, when starting to write a CV, asks himself the following question: "Should I put my photo on my CV?" Doubts often result from the fact that although the photo is not obligatory, it has become a permanent element of the CV, and recruiters are used to having it in the application.
So it is up to you whether you show your face, or not. However, remember that every element of your CV will be carefully analyzed and assessed by recruiters. This makes the decision to include a photo very important.
A CV is primarily used to present your experience and skills in the best possible way. It should be concise and professional. So you have to balance whether the photo will add value and will be beneficial in the recruitment process. So consider all the pros and cons.
5 reasons for a CV without a photo
First, your CV should be 2 pages maximum. If you have numerous professional achievements, great skills and broad interests, why take a place with a photo that is not related to the nature of the job you are applying for? Knowing what you look like will not help you assess your ability to perform day-to-day job tasks, project management, or managing challenges in the workplace. Second, it will not only add little value to your résumé, it can also open the door to bias and discrediting of what you really can do through the subjective judgment of your appearance.Third, if your appearance was important to the employer, a request for a portrait would appear in the job advertisement (this is especially important in occupations where good presence is important). Remember that job applicants are often screened by recruiters on the internet via social media. Therefore, they will probably see you anyway, even if you don't include a photo on your CV.Fourth, a photo on your resume, whether on purpose or not, may result in discrimination based on, for example, race, age or gender. Therefore, in some countries, due to stringent anti-discrimination laws, employers prefer that a job application should not be accompanied by a photo. It is worth adjusting to it and - just like information about nationality, marital status, political or religious beliefs - not to add a photo to your CV.If you are applying for a job in the USA, UK or Canada, it is strongly advised not to add a photo to your CV!Fifth, learn about cultural differences regarding business etiquette when applying for a job abroad. If you do not comply with the applicable recruitment standards, you may present yourself as inexperienced and unprofessional.
5 arguments for a photo in your CV
First of all, the employer must find an answer to their needs in your CV. So add a photo, if it is clearly indicated, as a condition for considering your application. This is important if you are applying for a job in professions where image plays a large role (e.g. as an actor, model or in work based on contact with clients). Secondly, if you want to stand out and emphasize your professional skills with a photo - this is a frequent procedure in creative professions, as well as among candidates who have built a strong personal brand.Thirdly, if you do not have experience, you can use a photo to communicate to the employer that you are a professional and competent person.Fourthly, the photo is part of CV personalization. There will be many candidates for the position you are applying for, and their experience and skills may be similar. By adding a photo, your resume will be more memorable to the recruiter. Fifthly, attaching a portrait to a CV is standard in: Austria, Belgium, France, Germany, Portugal, Spain, Scandinavian, Asian and African countries. So if you are applying for a job abroad, in a country where it is customary to attach a portrait to your application, select the template in

the CV creator

that will present your image best.
How to choose a photo for your CV?
If you choose to include a photo in your curriculum vitae, it cannot be chosen randomly. Remember the most important rules:
Choose a professional-looking photo - it should cover only the head and shoulders, against a light, plain background. If you use

the CV creator

- it will help you frame it properly.

Make sure the photo is well taken, in high resolution and not blurry or out of focus.

Make sure that the photo is consistent with the position you are applying for.

Dress for the photo in accordance with the rules of the business dress code, or in a uniform typical for the profession (e.g. chef's outfit).
Where to put a photo in your CV?
The photo space is provided in the contact details section at the top of the page, on the right or left. If you are wondering why to use a CV creator, the issue of presenting photos cannot be overestimated here - you do not have to worry about placing the photo correctly, adjusting its size or exposing your image in a favorable way.